LMA19/20/23/67 - MIL-DTL-38999/26482 Circular Backshells / Adapters
Description
These UK made, sealing and strain relief, EMC screened backshells / adapters are designed for use with D38999 / MIL-DTL-38999 Series III and IV or MIL-DTL-26482 Series I circular connectors and can be supplied with variety of finishes and variants. They are also designed to be used with heat shrink boots to complete the connector to cable transition.
LMA 19H/D Series backshells are manufactured in accordance with the AS85049/ M85049 specification however Weald Electronics also offers additional sizes, designs and finishes, in both straight and angled variants, as well as supporting the complete customisation of a backshell solution.
LMA20H Series Backshells are designed for MIL-DTL-38999 Series II / D38999 connectors with optical / fibre optic contacts to accomodate the push back of the cable during the connector mating. - NEW PRODUCT, FURTHER DETAILS ON REQUEST.
LMA67H/D Series heat shrink boot backshells have ultra low profile design to save space and weight. - NEW PRODUCT, FURTHER DETAILS ON REQUEST.
LMA23H Series - extended, 65mm long version of LMA19H Series backshells.
Watch our video below to find out more about our connector accessory package for MIL-DTL-26482 and 38999 connectors: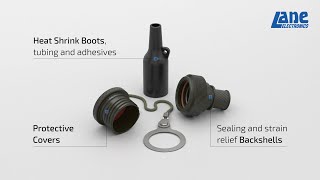 D38999 / MIL-DTL-38999 / 26482 Circular Connector Accessory Package - Backshells, Caps and Heat Shrink Boots
Main Features
Provides strain-relief and cable support to prevent bending or overflexing
Overall 360° screening against EMI/RFI interference (LMA19 series)
Low profile design to save space and weight (LMA67 series)
Designed for connectors with optical contacts to accomodate the push back of the cable during the connector mating (LMA20 series)
Made of Aluminium, Stainless Steel or Nickel Aluminium Bronze
Simple and fast termination solutions for most popular connector types
Two-part components allow uncoupling for repairs without damaging the boot
Provides effective environmental sealing against water and dirt ingress when used with a heat shrink boot
Many sizes and plating finishes available from stock
Compatible with connector series: 8D, JVS, TV, DTS, KJA/KJB, 233-105 (H interface) and LMH, 62GB, AB05, KPT, 851, IPT, SJT (D interface)
Straight and angled / 90 deg. variants (LMA19 series only)
Compatibility Charts
Compatibility Charts
LMA19/20/23/67H (MIL-DTL-38999 Series III and IV)
Compatible Brands
Connector Series
It is responsibility of the end-user to check the final compatibility before ordering the parts.
Souriau
8D
ITT Cannon
KJA/KJB
Amphenol
TV
TE Deutsch
DTS
Aero-Electric/Conesys
AE3
Glenair
233-105
AB Connectors
ABAC, ABAC
TE Polamco (Ethernet, Power and USB)
PC4
LMA19/67D (MIL-DTL-26482 Series I solder)
Compatible Brands
Connector Series
It is responsibility of the end-user to check the final compatibility before ordering the parts.
Weald Electronics
LMH
Souriau
851
ITT Cannon
KPT
Amphenol
PT, 62GB, 62IN
TE Deutsch
AFD
Aero-Electric/Conesys
AE71
Glenair
IPT
AB Connectors
AB05
Array
PW